FUELFLOW LM102 Fuel Pump – Low Pressure
Diaphragm Pump | 12 Volt | 0.5-2 psi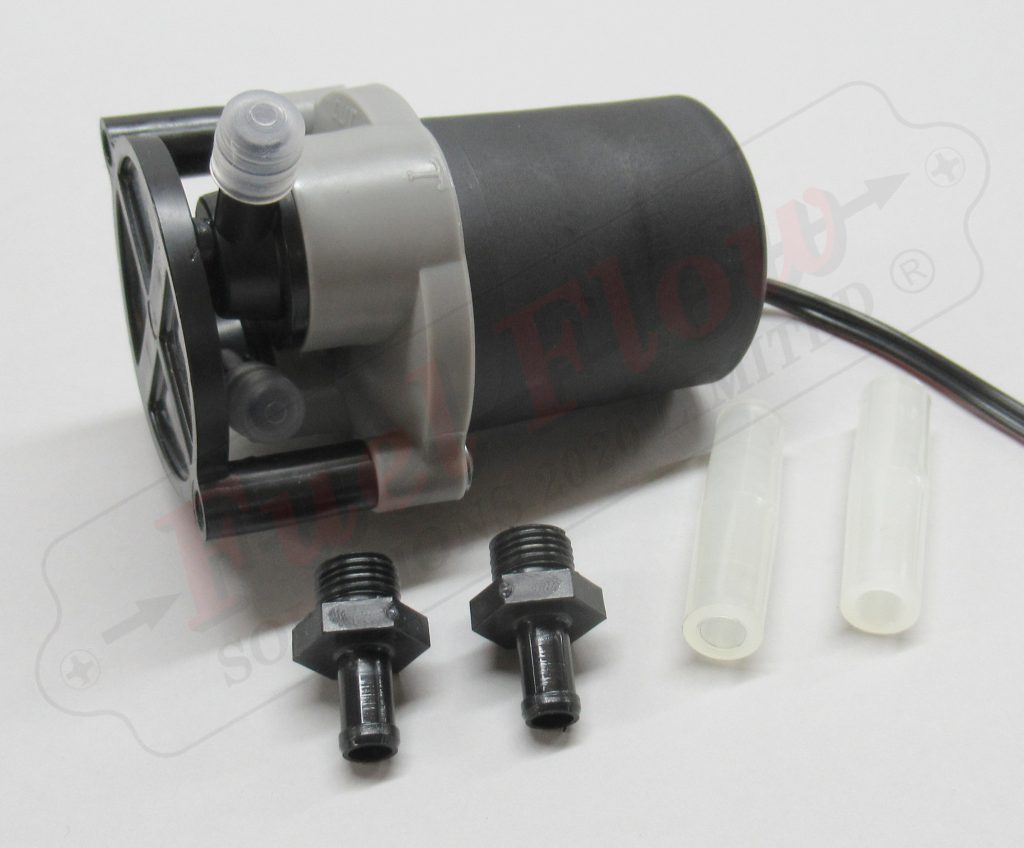 The FUELFLOW LM102 electric diaphragm pump is loosely styled on the original SU type electric fuel pump; our version has solid state electronic switching (i.e. no contacts). It is a specialist low pressure replacement fuel pump and has been specifically designed to suit vehicles that operate a low pressure fuel system. Although this pump is used in a wide range of applications it is typically used in vintage cars and most commonly the Morris Minor.
The combination of authentic design and modern componentry means this pump is ideally suited to the classic car enthusiast seeking original type replacements. The use of high quality plastic materials for the internal working parts of this pump means that it is also perfect for use in marine applications. The near silent operation of this pump makes it ideal for use in caravans and motor homes, particularly diesel heating units, and as this pump is suitable for use with diesel it is very effective as a diesel lift pump in all applications.
FEATURES
High quality plastic construction delivers a durable, fully insulated and weatherproof finish.
Solid state photo optic switching delivers efficient operation and brings together modern technology with proven authentic design.
Unique design features allow progressive switching of current to enable near silent operation, minimal vibration and no radio interference.
Reverse polarity protection ensures that the pump is protected in the event of incorrect installation.
Instant fuel delivery means no priming damage to the pump during initial start up.
Plastic construction means this pump is ideal for marine use. No metal parts = no corrosion.
Can be used with both petrol and diesel in a wide range of applications.
Suitable replacement for both mechanical and electric fuel pumps.
FUELFLOW offer a range of New Zealand made, high quality, light, compact and efficient fuel pumps.
SPECIFICATIONS
| | |
| --- | --- |
| Part No. | FF-LM102 |
| Pump Type | Electric Diaphragm Pump |
| Application | Universal and SU Replacement |
| Voltage | 12 volt |
| Earth | Negative or Positive |
| Operating Pressure (psi) | 0.5 to 2 psi |
| Max Flow | 1.0 litre / minute |
| Dry Prime | Immediate fuel delivery |
| Filter | In-built 50 micron filter & magnet assembly |
| Inlet / Outlet Size | 8mm |
WARRANTY
Product warranty liability is restricted to supply of replacement product only. All freight, installation, towage, salvage, labour or other repairs and / or service charges relating to product warranty replacement are specifically excluded from liability. Tampering with pumps voids warranty.